Launching a campaign means keeping a detailed on the journey of the campaign, from the day of the campaign launch everything is analyzed in detail. To make a referral campaign a success it is important to know customers' behaviour. InviteReferrals captures both campaign and referral analytics in-depth.
The number of invites sent by the referrers and getting the number of unique clicks InviteReferrals campaign analytics gets you all the detailed insights. Below is the detailed list of how the data collected and analyzed.
InviteReferrals Dashboard
You can get an overview of the campaign details on the dashboard. The dashboard shows the no. of invites and referrers that have happened over a time period. You can get data of a particular time period by applying the date filters.
The data is shown in tabular form and linear chart. You can also check the referrers coming from a particular web page or application.



Invite Statistics
The customers who visit your webpage via different social mediums when they are invited by your advocates, the data is captured. As in the image below you can see the number of invites coming from different social media platforms. The linear graph is precise and clear. You can see the number of invites coming in on a particular day.

Click Through Statistics
A lot of times the user will click the link multiple times but the click will be counted as one. No matter if the customer is visiting the webpage twice or thrice it will always be counted as one. Thus, the statistics show the number of unique clicks and referral clicks separately. It also shows whether the customer is coming in from the web or mobile.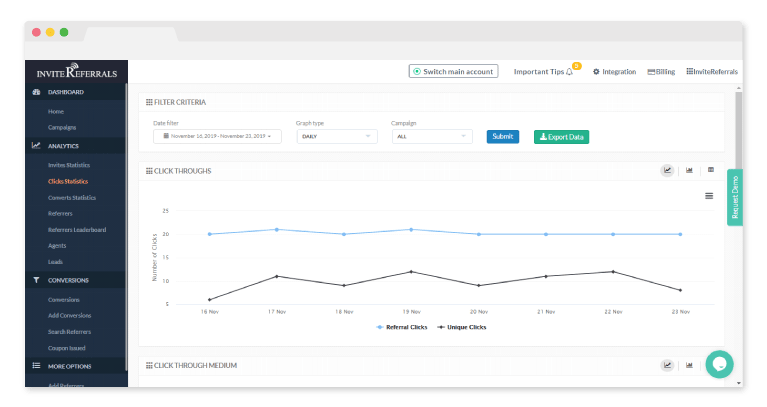 Convert Statistics
At times you will only see the clicks happening but not the conversion of the customers. In simpler terms, the invitees might visit your webpage but not necessarily sign up to your webpage or get subscribed to your services.
InviteReferrals analytics dashboard gives you the best insights of various conversions such as registrations. You can know the sales or the installs that have happened via the campaign.
Referrers Leaderboard
Know the top influencers of yours. There are customers who are more active than others. You should know those customers who make the maximum number of shares. Such customers are special and should be rewarded this is a good practice to follow, to keep customers flowing in.
Referrer Stats
Get the data of every customer that has enrolled in your referral campaign. You get the detailed list of all the referrers. You can export the list of the referrers with complete detail in a CSV file for future use. The report collected is the individual data of every customer. When you will click on a referrers' name it will get you a unified profile of every individual. In that profile, you can see the number of referrals made through the various social mediums.